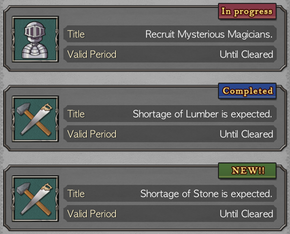 There are three progressions of quests.
New

All quests given need to be accepted before you can finish them.
Clicking on the quest will give you the details needed to complete and rewards for when you do complete it.
In progress

Once a quest is accepted it will show up as In Progress, and give you details about what it will take to complete the quests

Completed

This means you are able to collect your rewards.
After you complete a quest it will often lead you into another quest.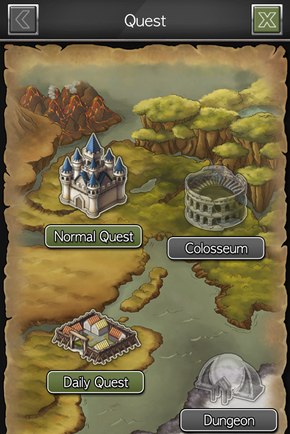 Here you will find a number of quest lines that help you start your village and get it up and running. These are really good for large sums of resources.
The daily quests are just that, quests that you get daily. Once you complete all the quests for that day, you have to wait until the following day to get more.
These quests range from Dungeon Clears, Adventuring, and Mercenary Recruiting.
Community content is available under
CC-BY-SA
unless otherwise noted.